How many different laundry detergents have I tried?  A lot.  I'm always on the lookout for the next big thing in laundry.  I think that if our water wasn't as hard as it is, I would probably stick to one detergent and be done.  Also, I am never completely satisfied with my laundry.  It's either not all clean, smells funny, or just looks dingy.  I also thought that I was on the losing end of a battle with stains.  I almost gave up!
So, how was I to turn down the opportunity to try Clorox Green Works Laundry detergent and stain remover?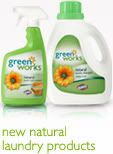 The claims from the Clorox website:
Q. What does natural mean? Are Green Works® products 100% natural?

A. Currently, there is no industry standard definition for natural cleaners. To create Green Works® natural cleaners we set ourselves a very stringent standard. The ingredients must come from renewable resources, be biodegradable and free of petrochemicals. Green Works® cleaners are at least 95% natural. In certain cases we had to use synthetic ingredients, like the preservative and green colorant. But we're working hard to develop natural alternatives so the entire line can be 100% natural.
My opinion:
I'm happy that the laundry detergent is plant-based and mostly natural, but I don't believe they should claim a detergent is "natural" if they are still putting in green colorants, synthetic preservatives, and fragrances.  There is a free-and-clear option, but I was sent the scented version.  We don't use scented laundry products as a rule because they exacerbate Corey's eczema, so I mostly used the detergent on towels and my clothing.
The scent of the Clorox detergent is VERY strong.  I had only done two loads of laundry when Jamie came home and said,
"You're doing LAUNDRY."
Then when Aiden got home from school, he asked,
"What smells like mint?"
It's not an unpleasant smell by any means, so if fragrances float your boat, good for you!  I just happen to know that the process of creating fragrance oils added to household products is far from "green".  We prefer not to have them in the house at all.
Cleaning-wise, I think that the Clorox washes as well as any other plant-based detergent I've used.  I honestly saw no difference.
The Stain Remover
I am impressed!  I have never been the stain-remover type of person, but since I have it on hand, I had to see what the hype was.
Since Timothy has been sick for the past week, we've been having to give him medicine and the stuff is full of dyes!  I didn't want to admit it.  🙁  But hey, we weren't the ones who bought the stuff, so I'll save that argument for another post. Anyway, I sprayed all the spots on Timothy's pajamas that were covered in puke, ibuprofen suspension, and most recently the bright pink antibiotic.  It ALL came out.  All of it–even the spots from four days ago!  I was afraid that all the new pajamas I had just bought him were ruined, but nope!  So now you'll find me poring over all the boys' shirts and pants, hunting down stains before I throw them in the wash.
I don't have any other stain remover to compare the Clorox brand to, but I think I'll be buying this in the future.  As a mother of four boys, I can't afford not to.
---
I wrote this review while participating in a blog tour campaign by Mom Central on behalf of Clorox Green Works and received a bottle of Green Works Natural Detergent and Stain Remover to facilitate my review and a $20 thank-you gift certificate.