I look mad or something in this picture. But I'm feeling particularly sassy today so I wanted to show you. Do you see my skirt? See it? See it? That skirt was these pants: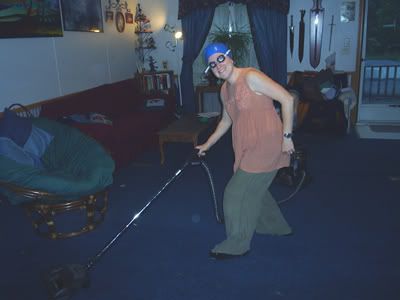 God that picture is old. My hair was super short and sexy, although you can't see it. I need a haircut really bad. I don't even have bangs anymore. Of course, I could cut the bangs myself, but I need my chick to go at my hair with some thinning shears cause it is SO HOT. Most of the time, I have it up in a ponytail/bun and a headband to hold my flyaways.
I like my shirt today. It was one of those risky Goodwill finds and I fell in love with the pockets. The puffed sleeves made me nervous, but I told myself I could remove them if I hated the way they looked. They're alright, though. I don't look ridiculous, and I feel a little Anne-ish with it them.
I spent way too much at the Goodwill last week, but I really needed new shirts. Almost all of my shirts were stained/too-short/UGLY.
Simon is currently pulling pieces off of play-doh and throwing it around the kitchen. He's in big trouble.
Ok. All clean.
I'm supposed to be testing a pattern, but I realized that I don't have a size 5 circular and I really need one. In the meantime, I'm working on a dishcloth, Aiden's sheep, and a baby sweater. I have a mind to alter a pair of linen drawstring pants like the ones I got last week. Where have you been all my life, linen capri pants?? Holy crap, I love them so much! I told Jamie I need ten pairs to get me through the summer. It's hot down here!
I have to rewash a load of laundry. Jamie didn't put it in the dryer last night like I TOLD HIM TO. I already admonished him. Is that grammatically correct? Me and grammar, we have a love/hate relationship.
Jamie's brother's best friend drives a car with a giant 7up logo on it. Just so you know.