Oh, to be a coupon queen.  Over the past ten years, I have fallen on and off the coupon bandwagon.  I never detested the clipping and the organizing.  Nope!  In fact, that was my favorite part.  I love carefully cutting out those little rectangles of frugal joy and happily handing them over to the cashier at the end of a successful shopping journey.
My main problem, and the reason why I was so anxious to do this review, was that I did not have a great way to organize my coupons.  The first thing I tried was an index card box.  One of those big plastic doo-dads that never stayed shut and would have to be reorganized if a child got his hands on it (COREY).  Really!  I have a video from when Corey was a year old and he trashed the living room.  There's a spot on the tape where I'm panning over the place on the living room floor where he dumped out the entire box of coupons and my voice is wavering with either laughter or tears.  I honestly don't remember whether I was laughing or crying.
I digress.
So the index card box didn't work.  And neither did the expandable plastic file.  Or shoving them randomly into my pockets or tossing them haphazardly into my purse only to forget about them until they were already expired..  Ultimately, I gave up my fight with coupons and decided that I would probably never be able to effectively use them because organizing the darn things was just not worth my frustration!
Check it out.  Deb from Glowgirl Fibers sent me one of these:
I've honestly never seen one of these fabric organizers before.  I've seen fabric-covered organizers that are really just those plastic expandable things, but they've never interested me.  The fabric coupon organizers at Glowgirl are completely handmade in stylish fabrics and come with twenty divider tabs that you can organize however you want to.  That you can rearrange and organize the coupons according to how you shop is one of my favorite features of these organizers.
So not only is the coupon organizer pretty, it is functional!  Oh, and you can strap it to your grocery cart, too.  This makes it easier to shop so that you don't have to juggle the coupons in addition to the purse, diaper bag, cell phone, calculator, pen, and shopping list.
You can one of these nifty things at Glowgirl's etsy shop for only $12!  I definitely thing that's reasonable, even for you frugal girls. Here's a shot of my organizer a couple weeks ago, hard at work: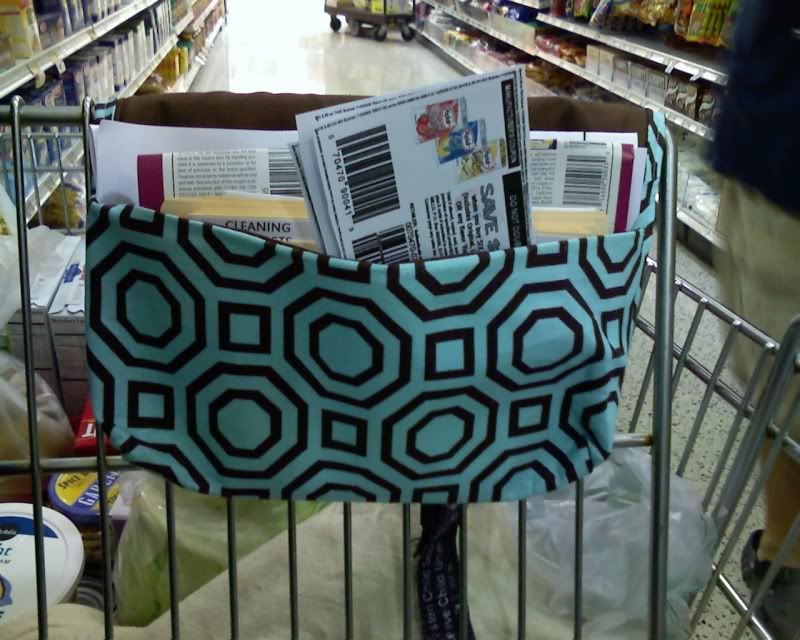 Deb has generously offered one of my readers a coupon organizer of his/her coice.  For a chance to win, simply visit her shop and tell me what fabric you would choose for yours.
For additional entries, leave me a comment for each of the following:
Become a fan of Glowgirl Fibers on facebook (make sure you post to her wall so she can feel the love!)
Subscribe to any of my Suzy Q Homemaker feeds in a reader or by email (current subscribers count)
Blog about this giveaway & leave me the link
Tweet about this giveaway
Use the share button at the bottom of this post & let me know how you shared this giveaway
This giveaway is now closed.  Thanks to all who entered!  A winner has been announced here. Please enjoy free shipping from Glowgirl Fibers for the next month by entering "Suzy Q Homemaker" in the message to seller at checkout. Your shipping charge will then be refunded.  🙂