Welcome to the Nursing Tank-A-Thon! I hope that these posts help you choose the nursing tank that's right for you. I have spent way too long and way too much finding just the right tanks to wear while nursing my babies. In a tank, I look for several different features, mainly these three:
Comfort
Style
Ease of access
You'd be surprised how much these vary by brand! So, without any further ado, here is the first of my nursing tank reviews.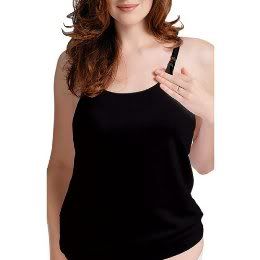 The Gilligan & O'Malley nursing tank is a relatively inexpensive brand found at Target. When I first started shopping for nursing tanks this year before Timothy was born, I picked up two of these. Right after Timothy came out and I had a bath, I slapped one on and I seriously wear them every day I can! I love everything about this tank. I especially love how comfortable it is. It's hot here in Georgia, so I usually wear these alone, but they are great for layering under a regular t-shirt, too.
The clasp is my favorite feature. It's very easy to undo with one hand, which is great when you really need to get your boob out in a hurry!
For those who like a tank with modesty panels, though, this tank isn't for you. The top basically flips down and reveals your entire boob. Personally, I don't care because I'm always sitting around the house nursing. If I'm going out, I simply throw a t-shirt on over it, so I don't need to worry about using a nursing cover.
All-in-all, I give this nursing tank a high recommendation. These are my go-to tanks–I now have four! I recommend these tanks for all nursing moms. As far as nursing tanks go, Gilligan & O'Malley tanks are comfy, and very reasonably priced at $16.99 in stores and online.