I have had a nursing pillow for years.  We got one when Corey was born and I used it for a short time.  It was a big, awkward pillow that I never could get to sit right in my lap when I was in the rocking chair, and it definitely wasn't portable.
Check this out: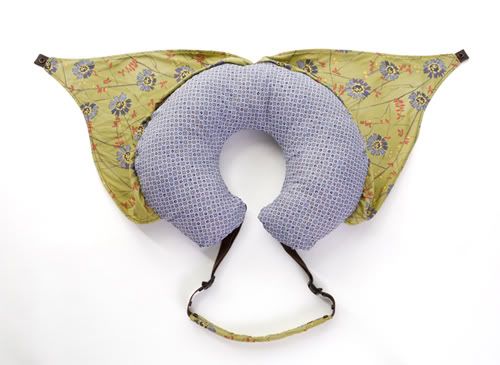 It's a Belly Fish nursing pillow and I love the concept: nursing pillow, nursing cover, and it is portable!  Those little flaps snap to the loop that you hang around your neck.  When you're done, fold the pillow in half and wrap it like a burrito.  You can hang it from your shoulder or stuff it into the stroller.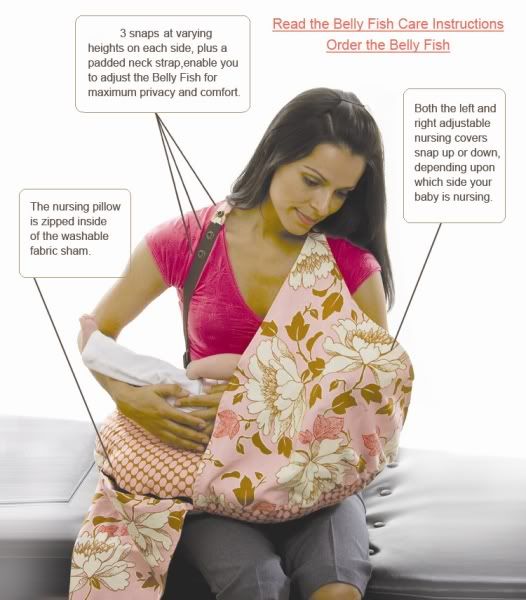 Genius, right?
I tried a Belly Fish and am still trying to get the hang of it.  The pillow is a lot smaller than the average nursing pillow, and it doesn't fit around my waist like my old one does.  There is a learning curve to it–knowing how much to adjust the straps, where to snap the cover, etc.  But if you are an on-the-go mom who wants to be discreet and comfortable while nursing, I definitely like this better than one of those drapey things.
Of course, it isn't just discretion that the nursing cover is for.  Timothy, being almost seven months old,  is very distracted while nursing, so if we are in public, having a nursing cover helps a little to keep him focused on his meal.  Not that he enjoys being covered up, but this pillow is easier to manage than a big blanket.
The Belly Fish pillow makes an excellent gift for a nursing mom.  It isn't available in stores, so you can order from the Belly Fish website.
Belly Fish pillow provided for review.